Los Angeles Embezzlement Defense Lawyer
Theft has many names, embezzlement being one of them. Embezzlement often involves taking money from an employer. If you or a loved one has been accused of embezzlement, you need to consult an experienced Los Angeles embezzlement defense lawyer to protect your legal rights.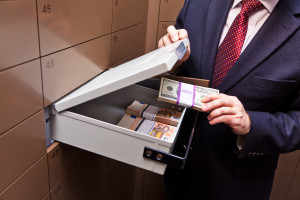 Simon M. Aval has over fifteen years of criminal defense experience. With Mr. Naval on your side, you can be confident that your legal rights will be protected and that you will have the most aggressive defense in defending the charges brought against you.
California Embezzlement Law
In order to be convicted of embezzlement under California Penal Code Section 503 PC, the prosecutor must prove:
The accused has some sort of relationship with the victim, in most cases consisting of an employer-employee relationship;
The accused was entrusted with the property, money or any other item of value that was taken; and
The accused actually took the property, money or other item of value with the specific intent to deprive the true owner of the property.
Embezzlement may be charged as either a felony or misdemeanor. In order to determine how the crime is charged, the prosecutor will most often look at the value of the amount of the item. If the value of the item is greater than $400, the crime will be charged under Penal Code Section 487 PC as a grand theft. If the value of the under is less than $400, the prosecutor can charge the crime under Penal Code Section 484 PC, petty theft.
Common Types of Embezzlement
An accusation of embezzlement can be very complex, but in most cases it involves taking money from your employer. Common types of embezzlement include:
Abusing an expense account
Running up excessive business expenses
Channeling an employer's funds in the wrong direction
While these are all complex accusations, most may be the result of simple errors and mistakes on your part or on the part of the individual accusing you. Due to the complexity of these cases, it is important to hire an attorney who understands how to sort through the details and highlight what is relevant and discredit was is inaccurate.  Los Angeles embezzlement defense attorney Simon M. Aval has the experience, skill and resources to work through these challenging cases.
Contact a Los Angeles Grand Theft Defense Lawyer
If you or a loved one is facing a California embezzlement charge, you should consult Los Angeles embezzlement defense lawyer Simon M. Aval. He is dedicated to his clients and has the extensive courtroom experience and track record to make him uniquely qualified to defend your case.
For more information or to schedule a complimentary consultation with Los Angeles embezzlement defense attorney Simon M. Aval, please call (800) 209-9808 or complete our online form. Mr. Aval is a Certified Specialist in criminal law by the state bar of California.