California law defines Assault With a Deadly Weapon (ADW) as an assault on another individual committed with a deadly weapon or with a force that is likely to result in serious bodily harm. The penalties associated with an ADW charge can be serious and can significantly affect all aspects of your life.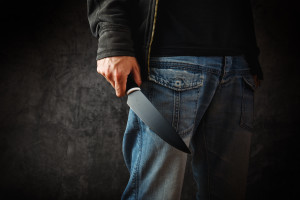 If you or a loved one has been charged with an Assault With a Deadly Weapon, it is imperative that you immediately consult an experienced Los Angeles criminal defense attorney to protect your legal rights.
Defining "Deadly Weapon"
Despite what most Californians think, you do not need to possess a "deadly weapon" in order to be arrested for ADW. In fact, most people are shocked as to how they can possibly be charged with this crime when they had no weapon. The truth is that something as seemingly innocent as a bottle can be considered a weapon.
The law defines a "deadly weapon" as any object that can cause serious bodily harm or death. So, using the example of the bottle, if you hit another person hard enough on the head with a bottle, it can cause serious injuries. The District Attorney can charge you with ADW, alleging the bottle was the deadly weapon.
Consequences of ADW Charges
An assault with a deadly weapon is known as a "wobbler" because the prosecutor has the option of filing it either as a misdemeanor or a felony, depending upon the circumstances of the crime. In deciding how to file the ADW, the prosecutor will look at three important factors:
What type of weapon was allegedly used;
Whether the victim sustained injuries
The status of the victim (whether the victim was a police officer, firefighter or any other "protected" government individual)
Call an Experienced Los Angeles Criminal Defense Attorney
For more information or to schedule a complimentary consultation with Los Angeles criminal defense attorney Simon Aval, please call us at (800) 209-9808 or complete our online form. Mr. Aval is a Certified Specialist in criminal law by the state bar of California.